The Baskerville Beast
"...noisy,funny and invigorating.... it's some distance from 'Sherlock Holmes: The Musical', and rather more entertaining."
Roger Johnson in The Sherlock Holmes Journal
Based upon The Hound of the Baskervilles, Teddy Hayes' musical began life as a rehearsed reading at London's King's Head and was then presented before audiences in an abridged form before opening with great success at the Questor's in Ealing and on a short tour culminating in performances at the 2006 Guardian Festival at Hay-on-Wye. The Baskerville Beast played at the Baskerville Hall Hotel where Conan Doyle was a frequent visitor and reputedly immortalised it in one of his most popular Sherlock Holmes stories. The original cast album was released by Dress Circle in Covent Garden to coincide with the Guardian festival. It was revived with great acclaim at the Rose Theatre, Bankside in 2010 in an entirely new production directed by West End and Broadway veteran, Jack Gunn.
John returned to the role of Sherlock Holmes in Donald Thomas' appropriately titled The Return Of Sherlock Holmes which premiered at the Manor Pavilion, Sidmouth in September, 2009.
As Sherlock Holmes.....
"..dignified and thoughtful, giving the impression throughout that there was a great deal going on beneath the surface. Indeed, he almost seemed to smoulder, like a volcano that could erupt at any time. These facets, together with his obvious singing and dancing abilities, made his interpretation a pleasure to watch."
Deryn Lake reviewing for Sherlock Magazine
"..a splendidly melodramatic Holmes, glinting with flinty intelligence, with just a hint of Jeremy Brett-like arrogance."
Bob Cornwell in Tangled Web
"..captured perfectly this national treasure of detectives..."
Emma Silverthorne in Sidmouth Herald
"..masterful portrayal..."
Donald Thomas
"..Basil Rathbone would have been proud."
Ray Cooney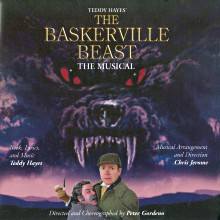 Click the arrow to hear John Elnaugh sing Logical Deduction from the original cast album (interjections from Paul Engers as Dr Watson).